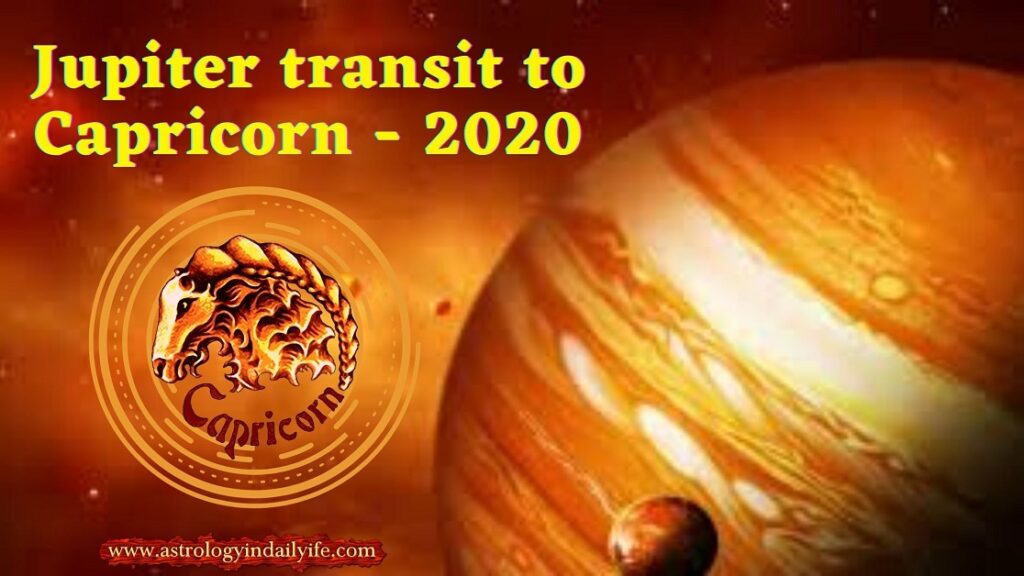 Jupiter transits from Sagittarius to Capricorn on 20th November 2020. This is no ordinary transit. Jupiter is debilitated in the Capricorn sign. But this time it conjuncts Saturn there – which sits in its own sign. This will create Neecha Bhanga Raj Yog; wherein the debilitation of Jupiter gets cancelled to a great extent. Thus this transit of Jupiter is unique.
Jupiter, the planet of Dharma (aka Duty) meets Saturn, the planet of Karma (aka Action). What a wonderful combination! This amalgamation will surely benefit those who put in dedicated efforts and pursue their goals with determination.
Important dates:
The "

great conjunction

" of Saturn and Jupiter in Capricorn will occur on December 21, 2020, when the two planets will be separated by a mere 0.1° and may appear as a single bright "star." This will be the closest great conjunction of Jupiter and Saturn in 397 years. It will be the closest great conjunction since July 16, 1623.
Jupiter moves to Aquarius from April 6, 2021. It enters the Capricorn sign again on September 14, 2021. Jupiter again enters Aquarius on November 21, 2021. 
Planet Jupiter will be retrograde between August 21, 2021, and October 18, 2021.
Jupiter and Saturn both shall be retrograde and in the same sign between September 15, 2021, and October 11, 2021.
Sun will join this Jupiter + Saturn duo between January 14, 2021 and February 12, 2021.
Let us see what effect this unique transit of Jupiter in Capricorn will have on all the signs:

Aries (Mesha):
This transit of Jupiter in Capricorn will favorably focus on your career and financial matters. New and better job opportunities will open up. Promotions and increments are on the cards. You may be entrusted with new and additional responsibilities at the workplace. You shall get a chance to unveil your creative skills. Change of department or workplace is also likely. Business will increase. Time is right to go in for the expansion of business. Some of you may start a new venture.
Cash flow will increase. Past investments will bring in huge returns. You shall spend on renovation and repairs of your residence. Property deals are also very likely. Avoid giving or taking loans.
Increased work pressure may disturb your eating and sleeping pattern. You need to remain vigilant about your health. Some minor ailments such as common cold or viral fever may trouble you.
Eligible singles will find a suitable match and can marry after April 2021. Family life will remain peaceful and happy. Some of you may have to stay away from your spouse and family due to work or other reasons. This is the right time to resolve and settle past domestic issues amicably.
Success, name and fame will boost your confidence. You shall transform into a new, improved personality.

Taurus (Vrishabha):
This transit of Jupiter in Capricorn will bring you excellent results. Favourable job openings, promotions, recognition, monetary rewards – all are lined up for you. Those who are looking out for an overseas job shall find good career options. Businessmen will be successful and shall crack lucrative deals. There shall be abundant opportunities for foreign travel and foreign collaborations. Time is ripe for initiating new projects. Challenges shall exist, but you shall be able to overcome them.
New sources of earnings will open up. You shall be able to recover unrealized loans given earlier. Unexpected gains or inheritance are very likely. Loans will get sanctioned easily.
Barring seasonal ailments or minor infections, health shall remain good. Past health issues shall be resolved. However, you need to be careful while driving or when on the road. Take due care to avoid accidents.
A new romantic relationship is on the horizon. Those desirous of getting married may have to wait for more time. Married couples will enjoy conjugal bliss. Those seeking to conceive will find this period favorable.
Travel is on the cards. You shall get a chance to travel abroad. Besides, spiritual journeys or pilgrimage to distant places are also possible.
Luck will favour you. Moreover, you shall be in a peaceful and stable state of mind during this transit.
Gemini (Mithuna):  
This transit is likely to bring some disrupting changes in your lives. Think wisely and act realistically. It is surely not a good time to try for a job change. Lack of cooperation from subordinates and seniors can create problems at the workplace. Consequently, you will have to put in extra effort to accomplish targets and meet deadlines. Despite steady demand, businessmen may have to struggle to fulfill commitments on time. Competition in business will increase. This is not the right time to start a new venture. Though, substantial profit in the business partnership is certain.
Income will remain stable. A rise in salary or sudden monetary gain is possible. However, you will have to keep a check on extravagant spending. Also, avoid taking loans. There are chances of foreign travel – for work or pleasure.
Time is right for those who want to get married. It is important that you give due attention to your spouse and marital life. This transit is favourable for those planning to have a child.
Overall, health will remain average. However, restlessness and stress can give you sleepless nights. Elderly people need to take good care of their joints, lower back pain, diabetes, etc. Regular medical check-ups and consultations will help to deal with these issues.
Cancer (Karaka):
This transit of Jupiter in Capricorn will bring you mixed results. You shall be able to accomplish major career goals through sheer hard work and strong determination. Nevertheless, you will have to stay vigilant of hidden enemies. Keep away from office politics and do not trust anyone blindly. Entrepreneurs will need to plan new strategies to sustain hurdles and fluctuations in business. A systematic plan and a thorough background check are a must before starting any partnership deals.
It is a good time to repay your outstanding debts. There will be an improvement in your overall financial and social status. Though, you do need to keep control of unnecessary expenditures. Also, keep away from speculative activities.
Health will be satisfactory. Those suffering from some past ailments will come across a good cure for their problem. You may get relief if suffering from joint or leg pains. Those suffering from respiratory problems need to take precautions. Also, guard against skin infections.
Emotional conflicts will disturb the mind. Meaningless arguments can prove detrimental to domestic happiness. Marital relations will improve. You will need to pay attention to your spouse's health. This transit is a perfect time for those seeking to get married. Students will need to put in extra and sincere efforts to get the desired results.
Leo (Simha):
This transit will bring you a bag of mixed results. Those in employment are likely to encounter some challenges from hidden enemies. Just focus on your work. Do not hesitate to take expert advice from seniors to resolve issues. If you are looking for a job change, you shall find a suitable one. Businessmen may have to face some new challenges. They need to plan and strategize well to keep their business perform profitably.
Financial status will remain stable. Dedicated efforts shall be suitably rewarded. You need to concentrate on savings. You may invest in some profitable venture. Expenditures on celebrations or auspicious ceremonies are likely.
Past physical problems are likely to resurface. However, this transit of Jupiter in Capricorn is a good period to get it cured completely. Health will surely improve provided you follow healthy eating habits.
Avoid arguments with family members. Differences between spouses and children are likely. You will have to make some sincere efforts to maintain harmony in your relationships. Time is not at all favourable for new romantic endeavours. Though, lovers will be able to snatch some good quality time between April and September. Nonetheless, eligible singles are likely to get good and suitable proposals for marriage.
Spiritual tours will provide much-needed peace and relaxation. Yoga and meditation will surely be helpful.
Virgo (Kanya):
This transit of Jupiter in Capricorn will bring a period of growth and progress in career and finance areas. Your past efforts will be rewarded in this transit. Your new innovative ideas will receive acclamation and acceptance. You will get what you rightly deserve – promotions, rewards and recognition. Better job opportunities will come your way. A new job or transfer at work is very much possible. You shall benefit from new professional contacts. Businessmen shall gain from an increase in business. Foreign contacts and overseas business hall prove profitable.
Financial status will improve. You shall gain wealth through ancestral wealth or recovery of an old debt. You may invest in property or a new vehicle. Old investments will bring in rich returns. Expenditures are likely to increase in the second half of the year.
Health will be good; still, do take precautionary measures against infections and seasonal ailments. You are likely to find the cause and the precise treatment for your past physical problems.
Family life will be peaceful.  You will enjoy the company of friends and influential contacts. Time is ripe to fall in love. The married shall enjoy a harmonious relationship. Though, you may have to stay away from your spouse for short periods due to work or other engagements. This is a good transit to plan for a baby.
Libra (Tula):
This transit may not give you the expected results. Still, you shall experience good times now and then. Growth in career will be slow, yet steady. You may get involved in new assignments. Sharpening your skills will bring in appreciation and rewards. This will increase your confidence. Nonetheless, avoid taking any big decisions regarding your profession in this transit. Business partners will help you achieve your goals. However, this is not the right time to initiate new businesses or startups.
You may experience some relief on the financial front. Expenses will increase; so will your earnings. You shall spend on comforts and luxuries. A shift or renovation of residence is likely. Some of you may purchase a vehicle. Keep away from speculative activities.
Things will be exciting on the romantic front. This transit is favourable for eligible singles to get married. This period is also good for childbirth. Though, married couples may have to deal with conflicts or separation. Try to maintain harmonious relations with your siblings. Mother's health may be a cause for concern.
Focus on improving your health. Though you shall be relaxed most of the time, some underlying issues may affect your mental peace. This will also disturb your physical health adversely. Take all necessary precautions against viral infections.
Scorpio (Vrishchika):
You shall be relatively more comfortable and relaxed in this transit of Jupiter in Capricorn. Now, you will feel more confident and self-assured. A long-held wish is likely to be fulfilled. The time is right to put your plans to action. New opportunities will bring in their own share of problems and snags. All you need is to remain motivated and unswerving in your efforts. Changes in career for better prospects is likely. Entrepreneurs shall succeed with well-calculated moves.
This is the time to plan your finances with a long-term perspective. Cash flow will be slow, but steady. You shall be able to afford a comfortable life. Savings will increase. The mid of the year is not a good time for new investments.
Harmony will prevail in your personal and domestic life. You shall surely enjoy refreshing short trips with friends and family. Social life will be quite active. Relationships with siblings will improve. Minor differences in family life can be easily resolved through a sympathetic approach. Those in love are likely to take their relationship to the next level. The married life will be blissful.
Health will remain good barring a few minor issues now and then. However, do not neglect minor ailments. Keep yourself safe in crowded areas.
Sagittarius (Dhanu):
This transit of Jupiter will be better than the previous transit. You shall see growth in your career. Things will start moving faster now. You shall be able to attain a better position and applause due to your improved communication skills. Your innovative ideas and efforts shall be duly recognized and rewarded. Time is ripe to follow your chosen line of work or start a new business. Entrepreneurs shall be able to grab lucrative deals. Your well-thought strategies will help you to take your business to new heights.
Financial position will improve with a steady flow of income. Unexpected, sudden gains are also possible. You shall be able to pay off your pending loans. Wealth and investments will increase.
The time is good for people desirous of having a child. This is the best time to resolve family issues and improve relationships with your siblings. Harmony and happiness will prevail in conjugal life. Children shall be a source of happiness. Some of you may find new love. However, the eligible singles will have to wait for some time to get married.
Health will improve. However, you will need to be cautious regarding problems related to your eyes. Do not neglect minor health issues. You will realize the importance of a vegetarian diet in this transit.
Capricorn (Makara):   
This transit of Jupiter in Capricorn will give you average results. No doubt, you may have to face some challenges in your professional life – especially in the first half of the year. Additional responsibilities will keep you very busy. You will not get credit for your performance despite the efforts put in. You will have to work hard to get desired success. Be cautious while changing your job or business in this transit. Also, it is not the right time to start a new venture. Differences with partners are likely to adversely affect your business.
Time is not favourable for finances. Use your funds sensibly. Keep away from new investments. A good financial strategy is much needed.
You may meet a special, interesting person with whom you may develop a lasting relationship. There may be obstacles in the path if you are getting married. Differences with your loved ones may cause mental stress. Give time to your spouse to maintain conjugal concord. Mother's health may be a cause for concern. Someone close will try to take undue advantage of you. Short trips to spiritual or natural places will help you retain your inner peace. A foreign trip is also possible.
Health-wise, you need to remain vigilant and careful as you are vulnerable to viral infections in this period.
Aquarius (Kumbha):
This transit will give you mixed results. You shall come across new opportunities to improve your career. Be prepared for some changes in your professional life. Some of you may be transferred to a new place. You may also get an opportunity to travel abroad. Your dedicated efforts will earn you increments and promotions. A long-awaited wish may be fulfilled. Those involved in overseas trade will get good business. Self-employed people may face certain hurdles in their business.
Income will increase; so will your expenditures. Sudden, unexpected expenses might disturb your finances. You may purchase some property or a new vehicle. You may have to spend on celebrations too. Avoid short-term investments. Spend wisely; else you may have to take loans.
On the whole, health will be good. However, you need to be careful especially while traveling or driving. Overwork and work stress may exhaust you. You may suffer from insomnia, leg pains, etc. Rejuvenation and change in lifestyle is requisite. Yoga and Meditation will work wonders.
Time is favourable for eligible singles to get married. You may meet an interesting person who will bring a positive change to your life. Domestic peace may get disturbed. Differences of opinions with partners may widen the crack in your relationship. Spend some more time with your spouse.
Pisces (Meena):
This transit brings you very favourable results. Long-held wishes will be fulfilled. This is a very promising time for prosperity, happiness and marriage. You shall be able to overcome old problems and make fresh beginnings. A new job opportunity is predicted. You shall be more confident and optimistic regarding your work. Your efforts will finally pay off. You shall be appropriately rewarded in form of increments and promotions. Entrepreneurs will be able to crack profitable deals. This is the right time to start a new business or go in for business expansion. New partnerships are in the offing.
You shall be able to clear off your old loans. Finances will be secure and stable. Cash flow will be generous. Income shall pour in from more than one source. You may invest in a property or a vehicle of your choice.
Love life will be good and happening. Marriage will be finalized for eligible singles. Social networking and group activities will increase. You shall be able to resolve old issues with someone close. Domestic life will be harmonious. The health of parents will be good. You shall be able to spend quality time with your spouse. The birth of a child will bring happiness.
On the whole, you will enjoy good health. You will feel full of life.